There are a total of five unique Mounts that can drop during the Alliance controlled Arathi Highlands warfront event. This article will show you the location of each rare that drops a mount, which mounts they drop, and the best route to take to farm them. Aside from one mount, both the Horde and the Alliance can receive the same mounts from the same rares. As the location of the rares can be different for the Horde, we have also made a map just for them.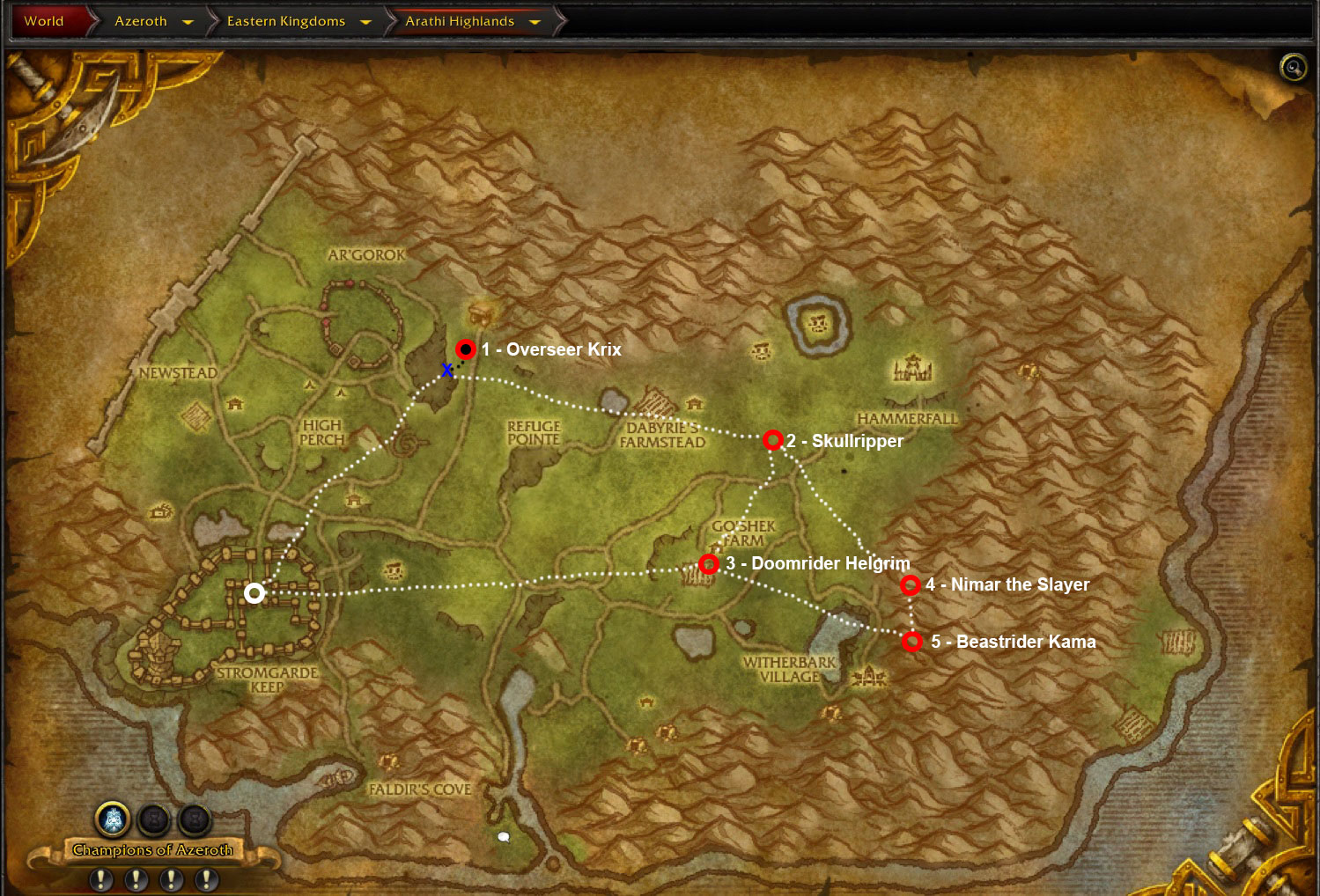 1) Overeer Krix
You may have noticed that Overseer Krix's location is indicated differently from the rest. This is because unlike the others, he is located underground in a mine. To reach him, access the mine via the entrance shown by the X. This kobold wanders around the mine, but can usually be found in the main chamber. Defeat him and you might get lucky enough to acquire his steed, the Lil' Donkey.
2) Skullripper
This red raptor can be found patrolling around a large rock. By bringing her down, you might be able to tame her, making  Skullripper your new mount.
3) Doomrider Helgrim
After the Horde are driven out of the Arathi Highlands, Doomrider can be found in the Go'Shek Farm. By defeating him there is a chance that he is dismounted and his steed, the Highland Mustang is taken as you own.
4) Nimar the Slayer
Riding a top his giant bat, Nimar the Slayer could be dismounted when defeated giving you a new flying mount, the Witherbark Direwing.
5) Beastrider Kama
Beastrider Kama patrols the Witherbark Village. Succeed at dismounting him, and you just might get yourself a Swift Albino Raptor of your own.